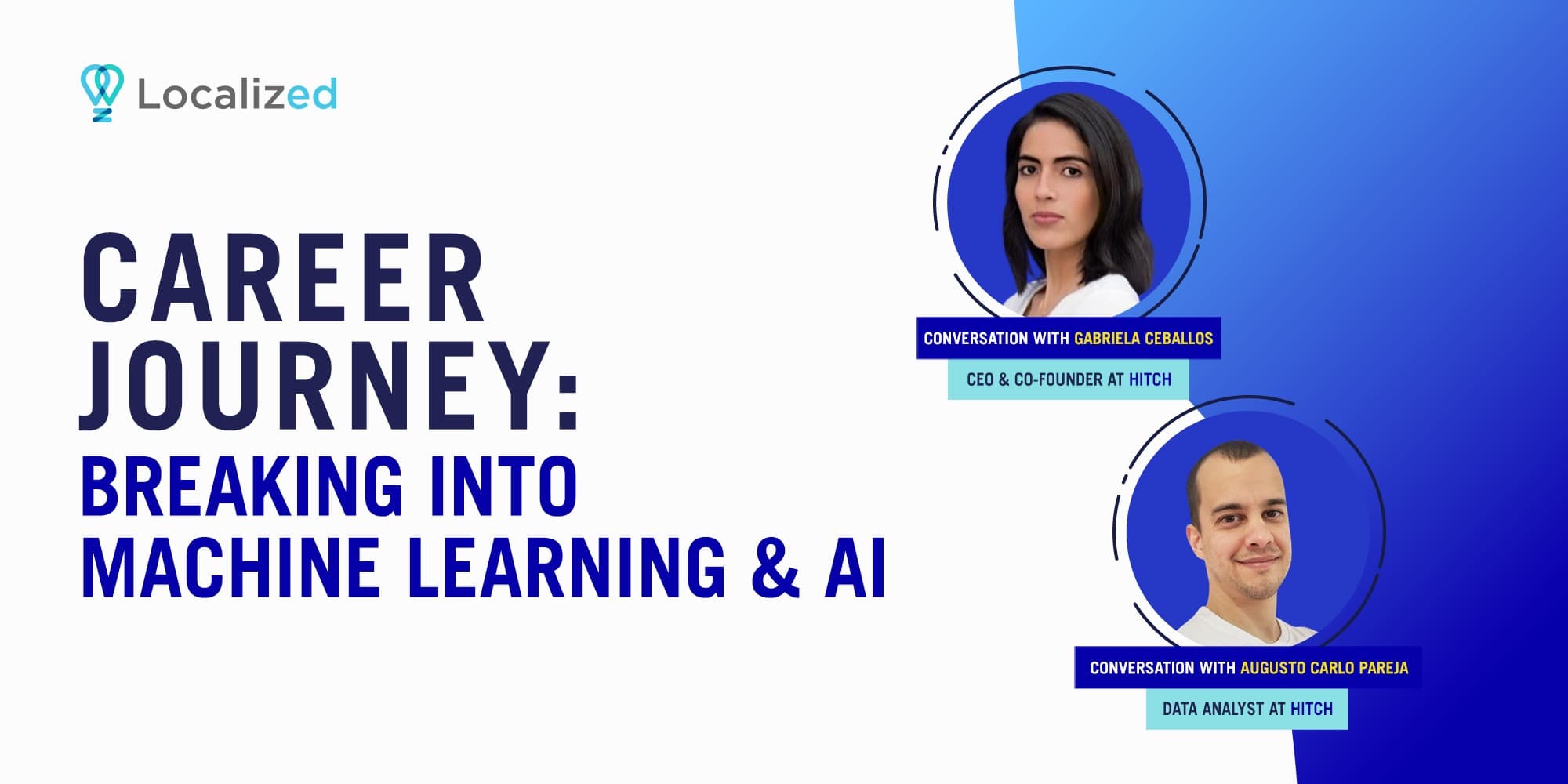 Career Journey: Breaking Into Machine Learning & AI
باستضافة:

Localized
⏰ 11:00 Mexico City Time | 13:00 EST | 19:00 Egypt Time
.
Interested in pursuing a career in Machine Learning and/or AI? Curious about breaking into these industries without a tech background? Join us to hear about Gabriela's career journey as an Economist and Master on Financer who became an entrepreneur to improve the recruitment process around the globe by using AI and Machine Learning!
.
During this session, we will cover...
✅ Do I need a tech background to break into AI and Machine Learning?
✅ How can AI and Machine Learning be of use in my job or sector?
✅ What skills are necessary for these industries?
🚨 There will be time for live Q&A at the end of the session.
.
About the speakers:
.
Gabriela Ceballos:
Gabriela Ceballos is a Mexican entrepreneur with a distinguished career in the professional and business fields. She holds a Bachelor's degree in Economics and specializes in Finance. She is bilingual, tech-savvy, and an expert in SaaS, B2B, HR, Strategy & Ops. Gabriela has worked in various areas of the financial and consulting industries before entering the world of technology.
Her passion for entrepreneurship and technology led her to work for a big-tech in LatAm, where she played a key role in implementing new product offerings and making strategic decisions in the region. It was during this time that Gabriela began to observe the positive impact that technological solutions could have on the business world and decided to focus her career in this field.
With the arrival of the pandemic and the acceleration of digitalization, Gabriela saw an opportunity to venture into an area that had always interested her: human resources management. Along with her co-founders, Gabriela created Hitch, a startup that offers solutions for all stages of the recruitment process for the HR team.
As the CEO and co-founder of Hitch, Gabriela has positioned herself as one of the most prominent business leaders in the LatAm entrepreneurial ecosystem. She has been recognized as one of the 30 business promises for Expansión, won the Inventures Pitch Competition, and was selected along with 14 other STEMpreneurs from the region for the Google 4 Startups accelerator.
Gabriela is a cheerful, analytical, and results-oriented person who has a great passion for sports and challenges. She believes that the key to business success lies in people and teamwork.
.
Augusto Carlo Pareja:
Augusto Pareja is a data analyst originally from Córdoba, Argentina. He graduated in Psychology with a specialization in Business Analytics, and has become an expert in Amazon Web Services (AWS) cloud platforms and data science.
Augusto Pareja is a talented professional who began his career as an Organizational Psychologist dedicated to personnel selection. Afterwards, he started programming and transitioned to data analysis. It was through this work that he became involved in the world of tech and HR. He started his path at Hitch, a startup that combines both worlds by offering solutions through its digital optimization platform to address the needs of talent acquisition teams.
At Hitch, Augusto started as a Psychology Product Specialist, responsible for researching and developing the product, as well as creating evidence-based solutions. After that, given his ability to understand technical issues in programming, his path at Hitch turned towards data analysis, taking care of diverse stuff: extraction, transformation and load (ETL) of data from different sources, API creation, database maintenance, visualization of data and even the maintenance of AWS cloud services.
His curiosity, analytical abilities and teamwork skills have made him a valuable member of the company and a reference in his field. Nowadays he is leading the data team incursioning into machine learning.
.
Click "Register" to secure your slot. When the webinar launches, that same button will say "Join with Zoom." Click to join the event.
الاسئلة (0)
تحتاج إلى تسجيل الدخول حتى تتمكن من طرح سؤال أو التصويت
تسجيل دخول